Welcome to
 The Woodturners Kauri Gallery and Working Studio
 home of Master Wood turner
  Rick Taylor
Dargaville, Kauri Coast, Northland, New Zealand
(note new location just around the corner from the "old" gallery
71 River Road, Dargaville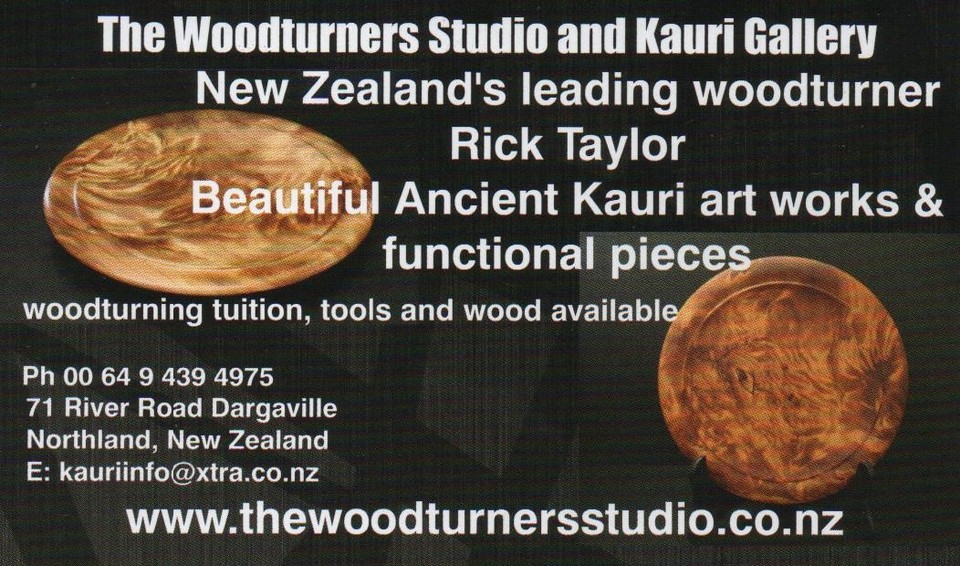 open from 10am
only 2 1/2 hours drive north/west of Auckland
50 minutes west of Whangarei
and 1 hour south of Tane Mahuta - the giant kauri tree in the Waipoua Forest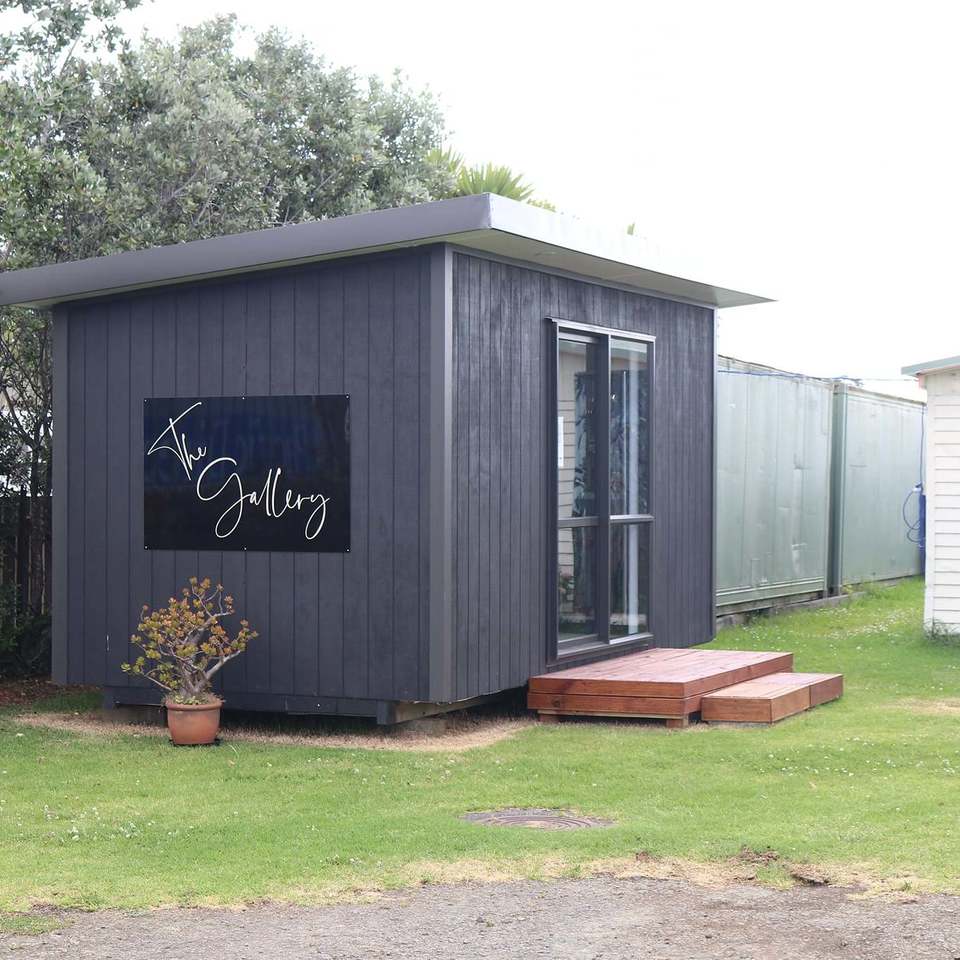 we are open at our new location 71 River Road, Dargaville
10am opening time
the gallery is fully stocked and Rick is usually in the work shop turning
we have a few pieces in our  "shop now" on this website but have more ancient kauri pieces in our relocated gallery - around 45 pieces from Toki, pens, candle holder, bowls, platters and hollow forms
We can take photos of more pieces and email the photos to you so you can make your selection
We can courier/post your purchase.
We also sell turning blanks, knife scales, pen blanks - just ask us.
Payment can be made by credit card or direct to our bank account (we can supply the banking "swift code" if you need it.
If you require any further information on a particular piece just email us kauriinfo@xtra.co.nz
 If we post your purchase home to an address outside New Zealand you  get the tax of 15% deducted
Dont miss out!
we opened The Woodturners Kauri Gallery (our first gallery) in Rotorua in 1987
In 1992 we moved to Orewa and operated our home gallery for 5 years and in 1997 we relocated to Dargaville on the Kauri Coast.
In November 2021 we  relocated our gallery to 71 River Road, Dargaville   (just around the corner from the previous gallery)
             We also operate  the Dargaville Park Over for  self contained motorhomes/rvs $20 per night per van.
  Stay one night or longer. Space for larger vehicles and great views of the Northern Wairoa River
Dargaville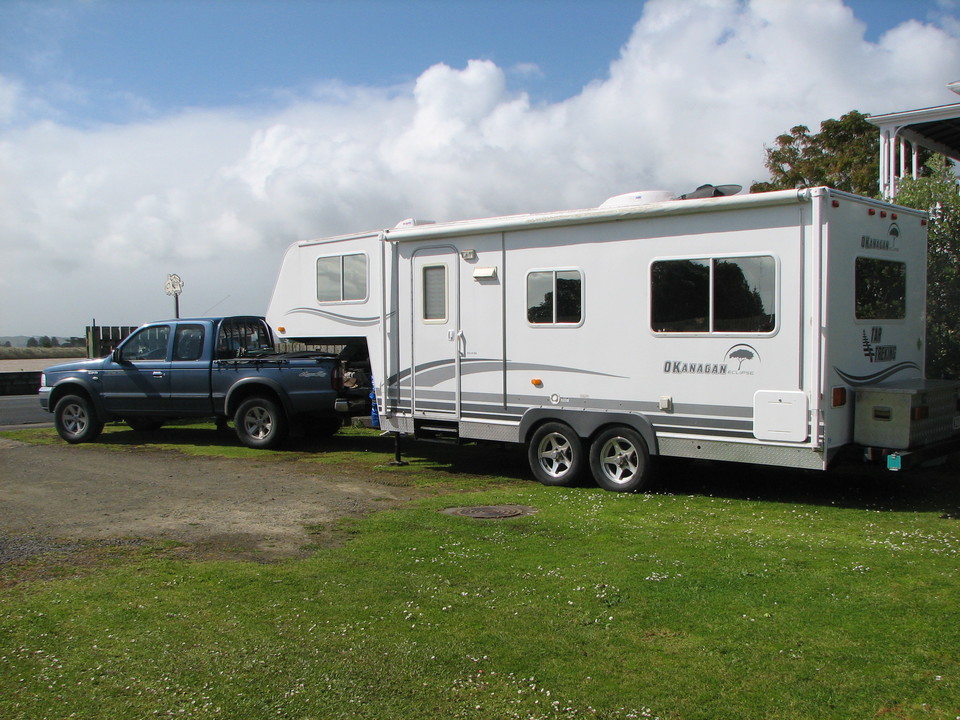 below - master wood turner Rick Taylor finishing off a beautiful fiddleback grain ancient kauri platter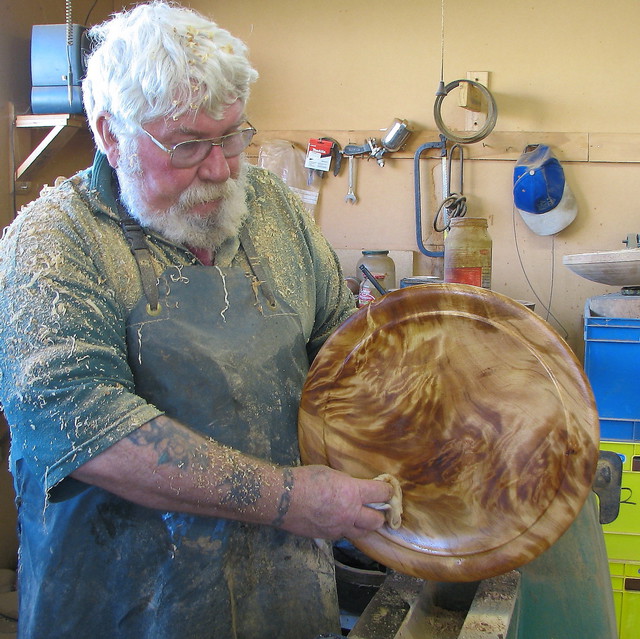 100% New Zealand grown Ancient Kauri
100% harvested from swamp land here on the Kauri Coast, Northland,
New Zealand
100% created here in New Zealand in to stunning pieces
100% New Zealand owned gallery/studio
Only the very best workmanship, design and coloured grains
you wont be disappointed
for real New Zealand made visit us at the studio.
All prices are shown in New Zealand dollars and include the gst (tax) of 15% which is deducted if we post your purchase to an address out of New Zealand
http://www.currencyconverter.co.nz
                                                         71 River Road, Dargaville
                                     Kauri Coast, Northland, New Zealand
                                          Ph+ 64 9 439 4975
                                            mobile 0274 489 652
                                       email kauriinfo@xtra.co.nz 
                                www.thewoodturnersstudio.co.nz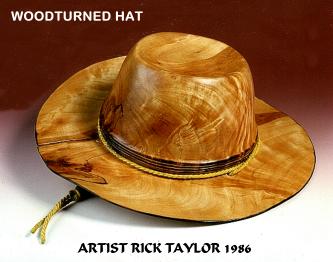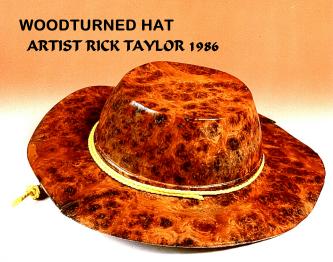 RICK HAS DESIGNED WOODTURNED HATS AS FAR BACK AS 1986
AND NOW WOODTURNED HATS ARE "OLD HAT"
 ALL HIS HATS HAVE RECEIVED AWARDS
The object of this website is to give you an insight in to woodturning in New Zealand
 as well as a little about Rick Taylor and the wonderful pieces in his gallery that you can purchase.      We are open most days
If you are making a special trip to visit us please check first to make sure we will be open
We offer 1 day or longer individual woodturning tuition here at our gallery.
  Book in for your day now - see  our tuition page 
Turn some of our ancient kauri wood, learn some of Rick's "new wave" turning techniques, see and purchase his special  woodturning tools (only available from us) and get inspired by what you see.
We will show you some of the kauri pieces in his gallery, how the kauri is recovered from local swamplands, beautiful kauri bowls, magnificent kauri hollow pots, stunning kauri platters, kauri lidded treasure boxes, kauri pens etc all hand made by Rick. 

Check out the gallery pages for bowls, platters, clocks pens, tool pages etc.  
You can purchase directly from us.   

All prices shown are in New Zealand dollars - we can convert to your currency and the tax of 15%  is deducted if we post your purchase to an address out of New Zealand
Matariki Competition and Exhibition Matakohe 2011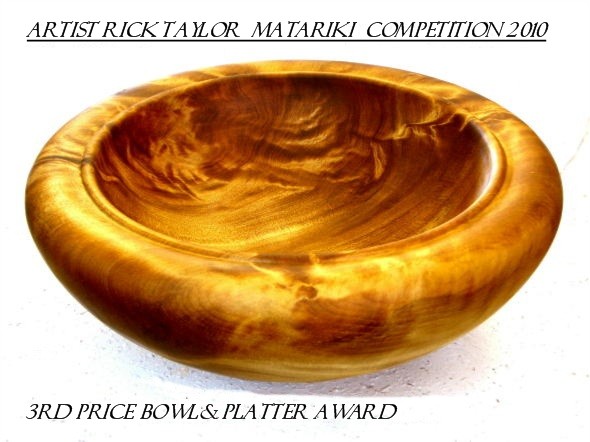 COMMISSIONED TO HAND CRAFT FROM ANCIENT KAURI
CONDUCTORS BATONS
Kevin Friedrich President of the ( C I A )  
Conductor Batons 
hand crafted by Master craftsman Rick Taylor
To  Conductor Joan C. Sommers of Kansas city USA
And Gary Daverne Conductor from Auckland New Zealand
At the World Accordion Orchestra Concert in Dargaville 30th August 2009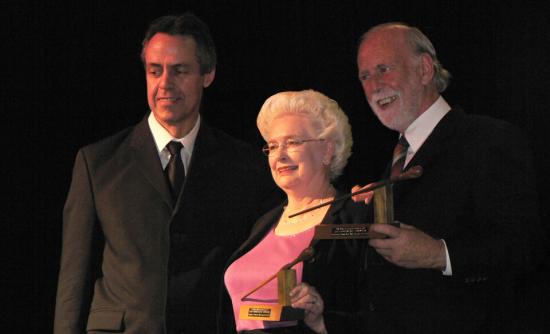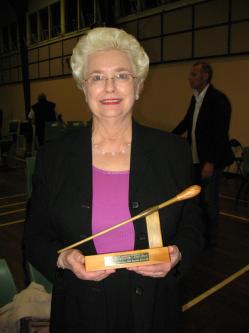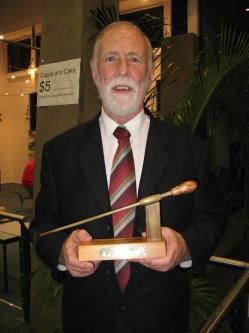 Joan C Sommers and Gary Daverne with the presented Batons
Artist Rick Taylor:
Rick has been woodturning for over 40 years and invites you to share his love of woodturning.
You will see the many colours and grains of the Ancient Kauri wood featured in the turned pieces shown in our gallery. 
 We can now offer some of our wonderful ancient kauri to other woodturners and woodworkers.
We can ship/post  your purchases home. Overseas visitors can get the GST (tax) of 15% off the purchase price. This helps towards the postage costs.
For fellow woodturners we offer information on woodturning tools available at our studio (we can post worldwide). 
This is individual tuition for 1 day or longer. Use Rick's tools, learn his "new wave" methods and have some fun as well.
  Learn how to enjoy your woodturning.
Check the TODAYS NEWS page for demonstration/workshops happening soon  and book your place for a workshop with Rick.
 Rick is also available for club seminars, workshops and shows.  Group visits are welcome but please tell us your group is coming as Rick may be down in the swamp getting more kauri, or fishing or out and about and you don't want to miss seeing him in action on the woodlathe!
We hope you enjoy our site - remembering that Rick is the woodturner and Sue looks after the Gallery and we are just learning about the art of making our website.        Your comments are most welcome. 
Tell us if you want more information/photos etc on this site. 
Thanks, Sue and Rick Taylor. 
We try to be open most days but check with us if you are making a special trip to see us   

The Woodturners Kauri Gallery and Working Studio
71 River Road,  Dargaville  Northland   New Zealand
email   kauri4u@xtra.co.nz
phone us (00 64)  9 439 4975  or cellphone 0274 489 652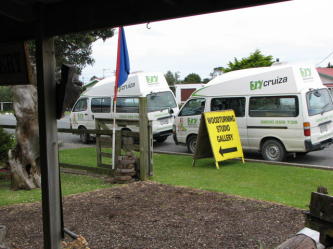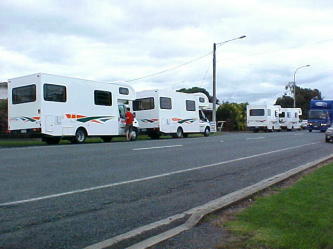 PARKING LEFT HAND SIDE / NORTH TO THE KAURI FOREST 
PARKING AT THE STUDIO
                     GOOD PARKING BOTH SIDES OF THE ROAD FROM THE NORTH AND FROM THE SOUTH  RIGHT OUTSIDE   
                                 OUR STUDIO GALLERY and off street park where the gallery is 
                                               SO YOU ARE WELCOME TO COME ON IN AND LEARN
                                    ABOUT THE ANCIENT KAURI FORESTS THAT WE DIG FROM UNDER GROUND OR GET YOUR INFORMATION
Dargaville Park Over for self contained motorhomes rvs and campervan
71 River Road, Dargaville  - mobile 0274 489 652
NZ$15 per van per night
you can stay for only 1 night or longer