Wood turning Tuition
with Rick Taylor
ONE DAY OR LONGER
we are now taking bookings for the 1 day basic wood turning course  - this is a full day "one on one"  just you the student and Rick
can be any day of the week including weekends but must be booked in advance. Everything included for the day plus lunch
accommodaiton available in our  2 bedroomed cottage that is on the same section as our home  - you can see on Air Bnb  under Dargaville Cottage Accommodation  - special rate for students and family staying but book direct with us when booking you day/days tuition
we also have two books available $85 each - one on making a bowl and one on making a hollow form. Step by step instructions with text and photographs. $85 each plus postage/courier
  individual wood turning tuition - NZ$425 
 date to be confirmed by us once you make contact 
email kauriinfo@xtra.co.nz to book
 beginners level
bookings essential and tuition can be any day including the weekends 
learn from a professional wood turner - Rick Taylor
book for one day or longer  -
one on one tuition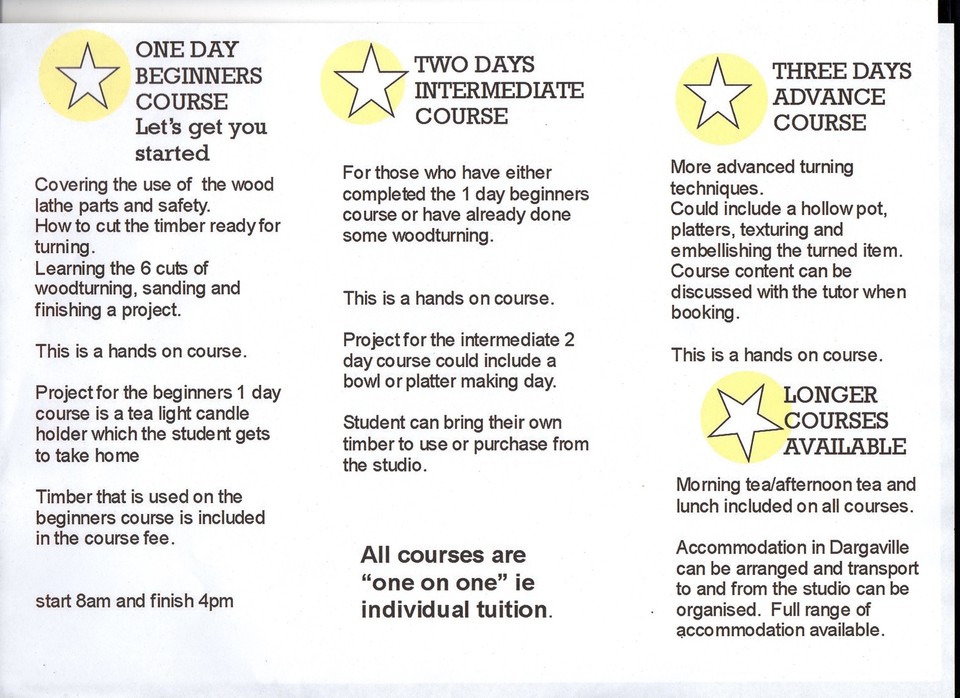 basic beginners day, intermediate or advanced
 basic beginners day includes timber used.
email kauriinfo@xtra.co.nz
or phone 00 64 9 439 4975 
or 0274 489 652
 books by New Zealand master Wood turner Rick Taylor
only NZ$85-00 each and postage
STEP BY STEP HOW TO  AND GREAT PHOTOS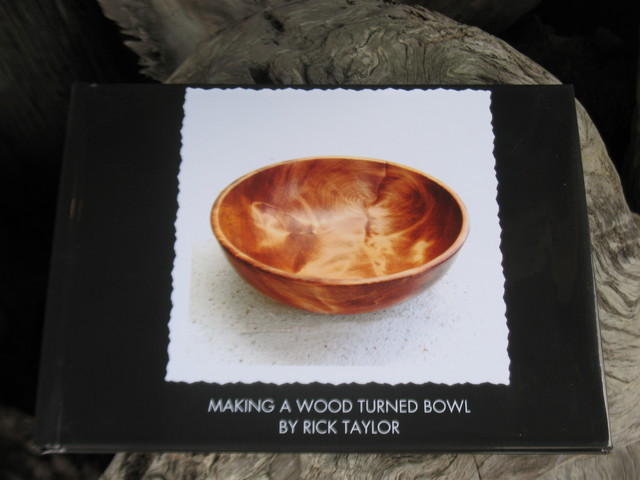 these are two great new books to learn how to turn bowls and hollow pots step by step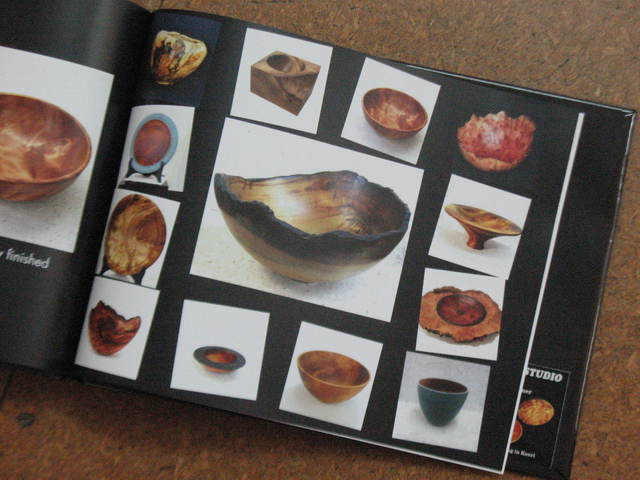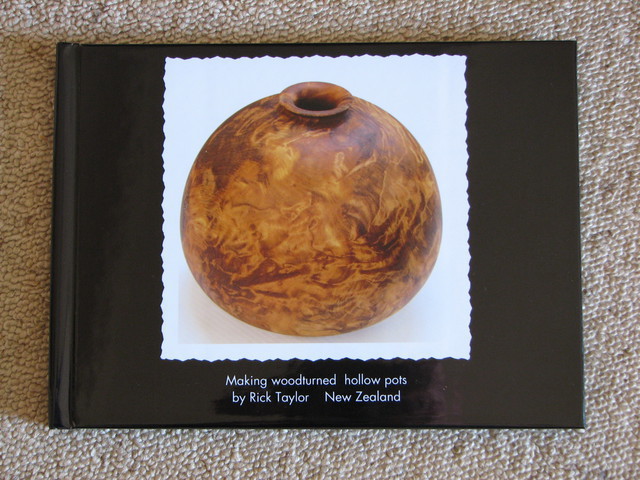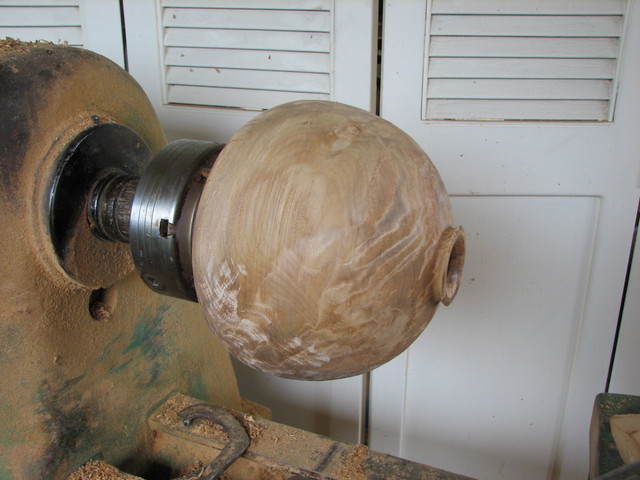 Better still book in for a day (or more) tuition in woodturning with the Master - Rick Taylor
SOME OF OUR STUDENT'S COMMENTS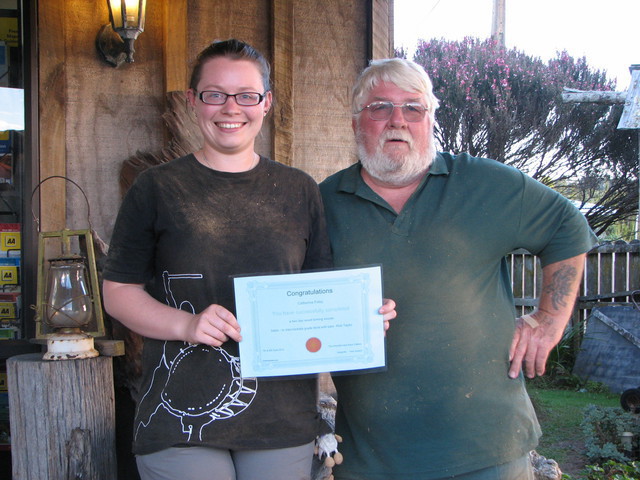 Hi Michael from Germany
photo below
I had a great day with Rick on the Sept 1st 09 I had never turned wood before
and wow look what I made just in one days tuition with the Master
my day with Rick was a present from my wife for my birthday.
Thanks Rick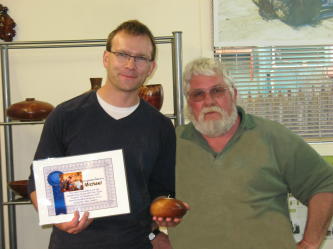 My name is Ludo I am from Switzerland
photo below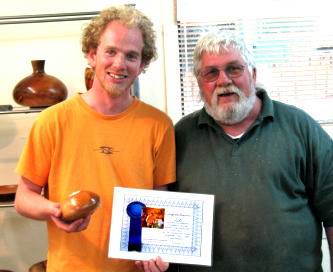 I had a great day with Rick we had so much fun
the high light of my hoilday in New Zealand Aug 09.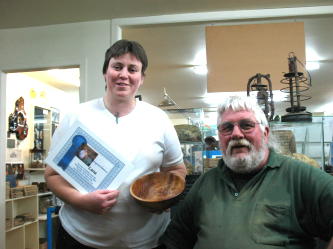 My name is Lana visiting from Australia
We called in on Rick at his studio Wednesday 12th Aug 09 he was making turned pens
When I told him I had made a turned pen on my woodlathe back home
well he walked over to me and handed me the tool and
said you can make this pen and I will have time out and maybe I will learn something.
bugger me / I had to turn that pen and show him I could do it
 After I had finished the kauri pen
 I didnt want to let him back on his lathe I was having fun turning wood in New Zealand.
Well Rick being Rick
 He said I had done a great job and gave me the pen I had turned out of green coloured Kauri wood.
We all had a great afternoon and I booked in the next day for tuition
on bowl turning and made a lovely kauri bowl along with learning
how to cut up wood for turning from the log , drying wood, sharpening turning tools,
and how to do the six cut of woodturning  and learnt all about his new wave set of turning  tools .
If you want to have a fun day call in on Rick at his studio.
You can't get lost just look for the big sign with his photo on it
it's about 12 foot high x 5 foot wide
and I like the piece at the bottom that says
 Rick Taylor world famous kauri wood artist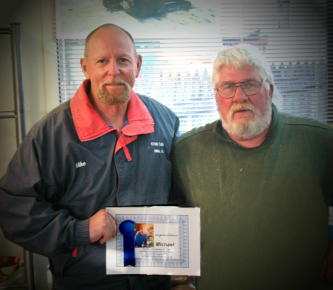 Hi Mike from USA
I had a day with Rick in the work shop
 7th August 09  made lots of shavings and I even get to take home a finished kauri candle holder
and a set of the RT new wave turning tools
the last time I turned wood was at school a long long time ago
I will now go home and set up that woodlathe I have in my shop and get to turning wood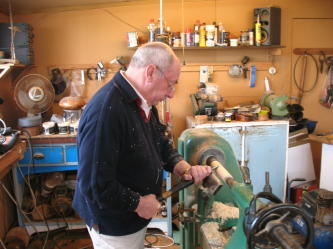 Hi  David is the name from the UK
I came back to have a day with the Master / 18th July 2009
an early birthday present from Veronica my wife
a great day I had after the last time I worked on a wood lathe 50 years ago.
When I get home I am going to take out the wood lathe that is still in the box in storage
that I have had for a long time and never got around to setting it up
From Rick, good on you mate have fun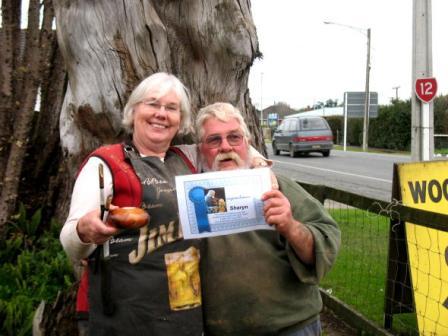 Hi Sharyn from AUS
I had a great day as a student with the Master 
We gave up our trip to the Bay of Islands so I could have a days woodturning with Rick
and well worth it!
He is a bit of a dag but you get to know him and how he works by lunch time
And what a lunch hot soup and bread on a cold winters day
from Sue a great lady thanks Sue
11th July 2009
Hi I am Peg from the U.S.A / taking a plane from the bottom
of the North Island  to Auckland then by road in a rental car to Dargaville.
On the Kauri coast
 to have a day in the workshop with  Master woodturner Rick Taylor
It was well worth the trip, we had fun and I learnt  new wave woodturning
and it is so much easier with the new wave tools etc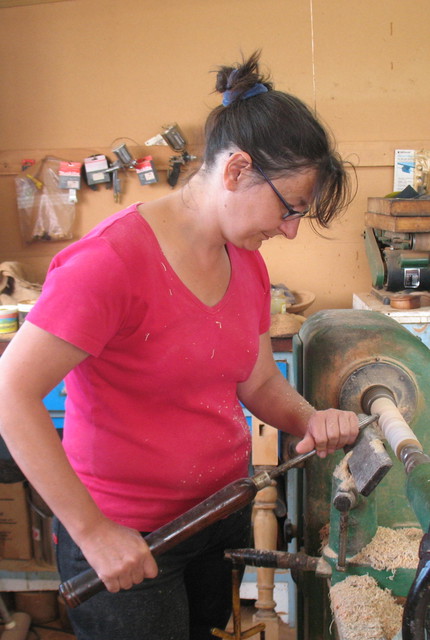 Hi my name is Sandra 
from the office back home to working on a wood lathe in New Zealand
Sandra says -  I want to be a woodturner  / after having a days workshop with  Master Woodturner Rick  Taylor
  working with the Ancient Kauri wood at the Studio spending time learning how to store and dry  wood
   for woodturning /  along with turning a piece  into a candle holder to take home
for me  it was a day full of fun and I now have two new friends Rick and Sue
When are you booking in for a day or two of woodturning
 tuition with Rick Taylor?
The Woodturners Gallery/Studio and Rick Taylor
offers individual woodturning tuition
here at the Studio. Get to use Rick's large lathe and New Zealand made woodturning
tools.
 Play with some of our wonderful ancient swamp kauri.
 You can even take some
 Kauri wood home with you - bowl blanks, pen blanks etc. 
Rick Taylor is a master woodturner and caters for all levels of woodturning tuition,
from beginners to advanced - students of all ages. Even if you haven't used a
 woodturning lathe before we can get your started or if you need specific tuition tell
 us what you need from Rick. Tuition is on a one to one basis - i.e. individual tuition.
GIFT VOUCHERS AVAILABLE - GET A FRIEND TO BUY YOU ONE NOW!
Rick Taylor demonstrating at the Whangarei Woodworkers and Woodturners Club
If your club would like to have Rick to give a demonstration
send us an email  kauri4u@xtra.co.nz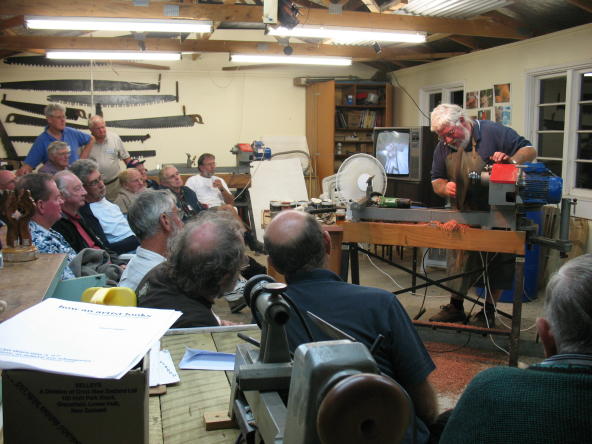 Below
ALL THE WAY FROM THE U .S .A
TAKING 5 DAYS TUITION WITH RICK
THIS STUDENT IS WORKING ON A HANDCRAFTED WOODEN STONE MADE FROM NZ KAURI WOOD
WOOD CARBON DATED AT 3860 YEARS OLD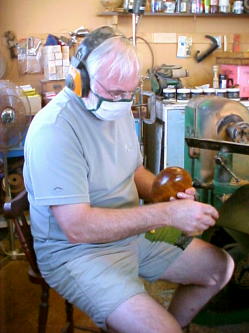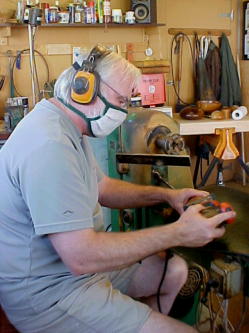 Below - Stewart
I LOVE MY  BIKE BUT AFTER HAVING WOODTURNING TUITION
WITH RICK WHEN ON HOILDAY IN NZ
I NOW HAVE TWO HOBBIES  AND WILL HAVE TO FIND TIME TO DO BOTH
 THE BIKE AND THE WOODLATHE