Rick's special wood turning tools
set of two tools and two handles NZ$345 including gst
if we post the set overseas you get the 15% gst tax off then we add the postage costs
replacement tips also available from us
    Wood turning tools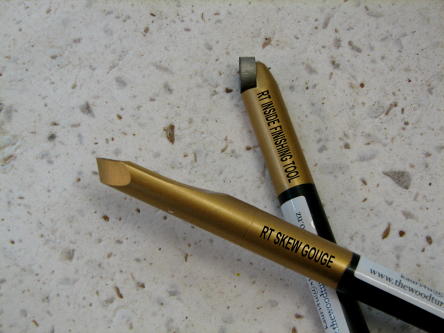 See Rick's special wood turning  tools
You don't need lots of wood turning tools - just the right one
(not painted gold now)
 RT NEW WAVE FINISHING TOOLS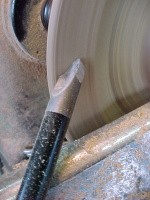 THE RT SKEW GOUGE
THIS IS THE OUTSIDE FINISHING TOOL ALONG WITH BEING A DETAILING TOOL FOR BOWL AND SPINDLE TURNING
BEFORE AND AFTER PHOTOS BELOW /SHOW THE CLEAN CUT READY FOR SANDING
PLEASE NOTE THIS TOOL IS NOT GOLD PAINTED ON THE TIP NOW
 AS THE TIP HAS TO BE HEATED TO REPLACE
RT SKEW GOUGE TOOL 
FOR FINISHING THE OUTSIDE OF  ITEMS
AND  DETAILING TOOL
Tool  -  RT inside finishing tool.  Fits in to the same handle as the RT skew gouge
                Used to reduce end grain  fiber pull therefore gives a better finish before sanding. Easier to get around                                        curves.
                                               
   RT  (Rick Taylor) set 
These tools are shear cutters for finishing after gouging has been completed.
What can they do?  
                            Reduce end grain fibre pull on soft woods, cuts all woods clean ready for sanding inside and out of turned items.
  Used for detailing, making beads and coves,  hollowing  etc.  These tools will just about do anything a woodturner needs to do.      These tools are used by Master Woodturner - Rick Taylor every day in his woodturnings.
 handle fits all 13mm tool shafts.
 The  RT Skew gouge -  wow,  you will wonder how you did your  woodturning without this little beauty!   (replaceable tips also available for you to sharpen to the same shape as your original  skew gouge  purchased  from us). 
   This is used as an outside finishing tool, reduces end grain fiber pull, leaves the surface clean ready for sanding.
Also can be used as a detailing tool for making beads, coves etc

Tell us what you would like to order and we will advise you costings including postage costs
tell us what country you are from so that we can calculate the correct postage
If you would like more information about the above tools  before ordering please email us
kauriinfo@xtra.co.nz
we can post these tool world wide and you get the gst (tax) of 15% off the purchase price